A delicious twist on the classic pickled onion!
Makes 15 oz of pickled onions or about 4-6 servings of toppings
15 minutes prep, Marinate overnight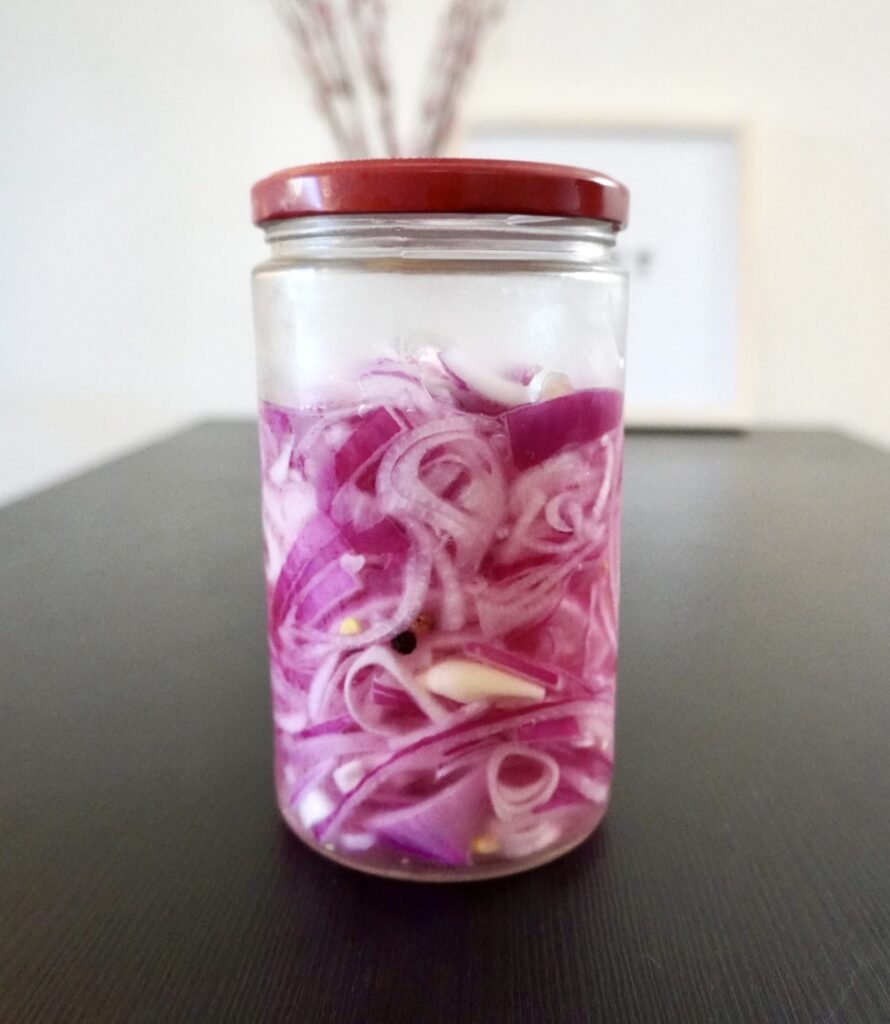 Pickled onions are one of the most versatile toppings; these pickled onions are zesty, sweet, garlicky, and have a depth of flavor thanks to three different types of peppercorns! You can add as many cloves of garlic as you'd like; the pickled garlic cloves are delicious paired with any marinated meat wrapped inside a lettuce or perilla leaf. I serve the pickled onions on top of homemade tortilla tacos, hearty chili, poke, Chinese cured sausage fried rice– the options are limitless. The tanginess of the vinegar and sugar cut through perfectly in fatty, umami rich dishes.
My favorite thing to do as an Asian American chef is to take classic western recipes and add subtle Asian ingredients that enhance the depth of dishes. This results in fun new flavors yet still stays true to their origins.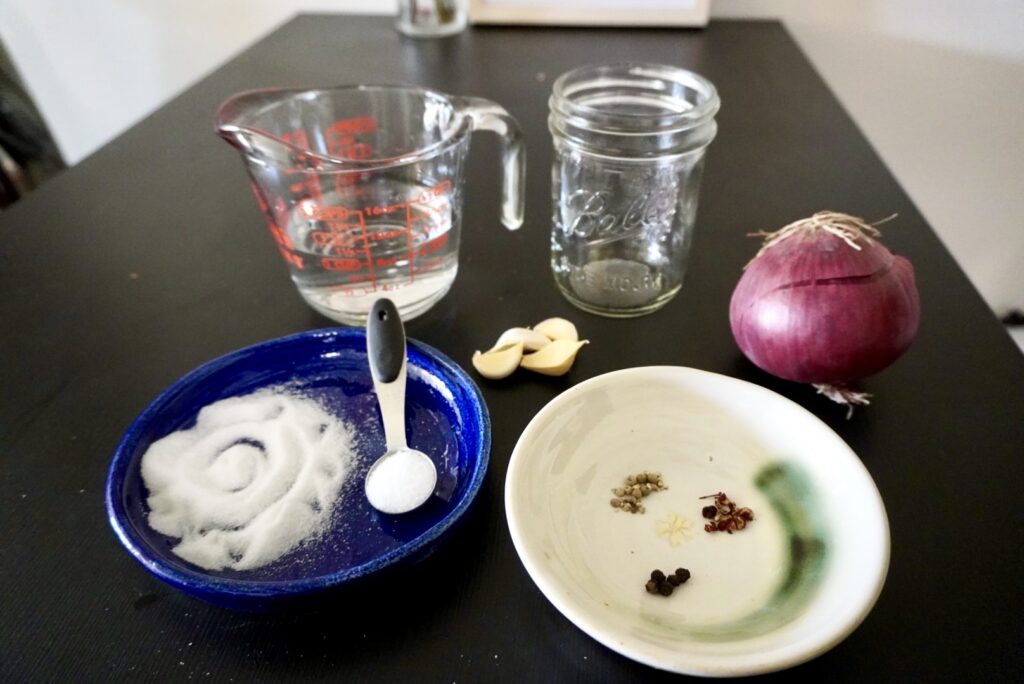 Ingredients
Two 10 oz mason jar of Pickled onions or 1 large 20 oz airtight jar
1 large red onion
6 tsp white sugar
1/4 tsp black peppercorn
¼ tsp white peppercorn
¼ Szechuan peppercorn
4-5 cloves of garlic
1 tsp salt
3/4 cup filtered water
3/4 cup white vinegar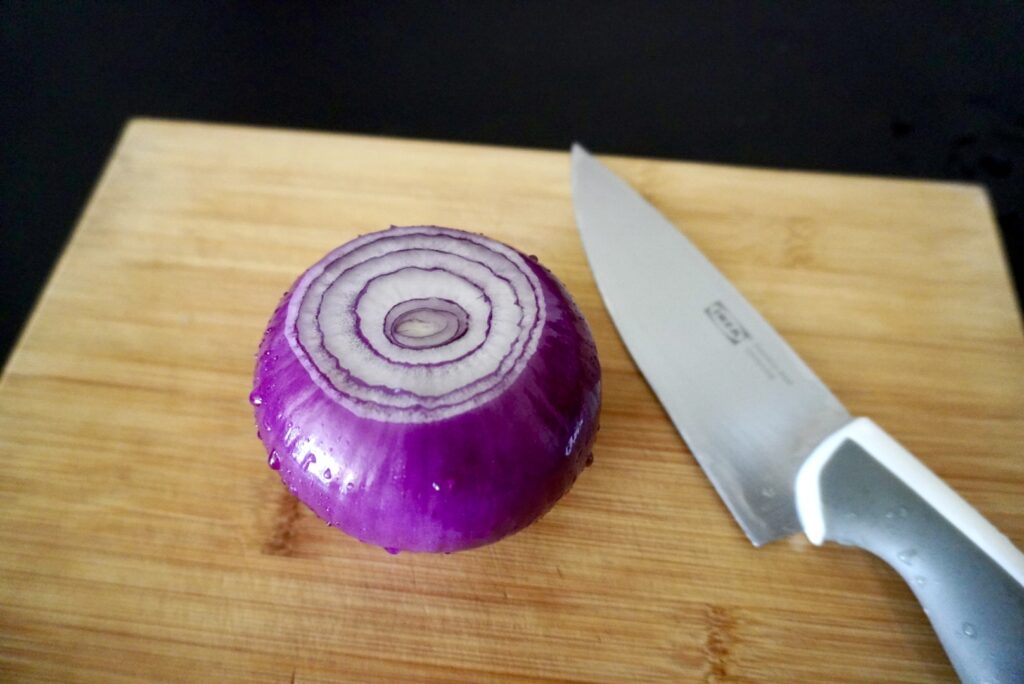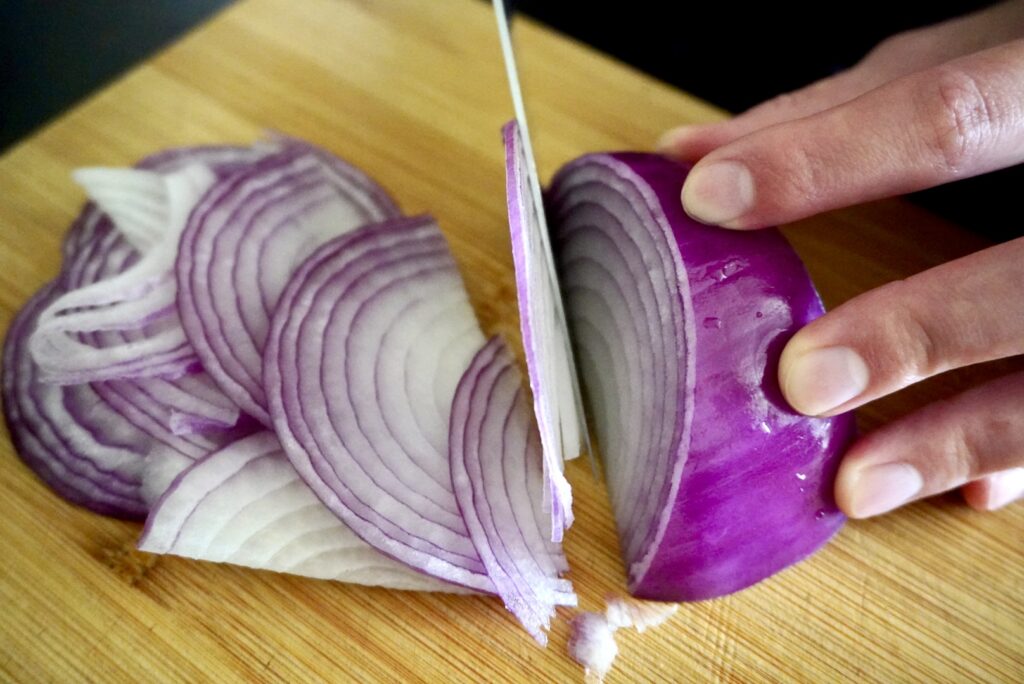 Steps
Start by heating the water, salt, and sugar in a small saucepan over medium high heat. Stir until dissolved, about 1 minute. Turn off the heat and add the vinegar. This helps to retain the acidity of the vinegar. Cool completely.
Cut off the flat ends of garlic, this will help to easily remove the peel.
Remove the inedible outer layers of the onion by cutting off the two ends. Cut the onion in half for a stable surface before slicing the onion. I cut one half of the onion into thin slices and the other into thicker slices for a variety of textures for different dishes but you can cut it to the thickness of your preference.
Stuff the onions, peppercorns, and garlic into the jar in an alternating pattern so that the garlic and peppercorn flavors penetrate all onions.
Pour the pickling liquid into the jars and marinate overnight or until the pickle liquid turns pink hued for the best results. Keep in the fridge for up to 2 weeks.