A classic dim sum favorite! 6 Servings of radish cake, about 32 oz | Prep time 30 minutes + Stir fry and Steaming 50 minutes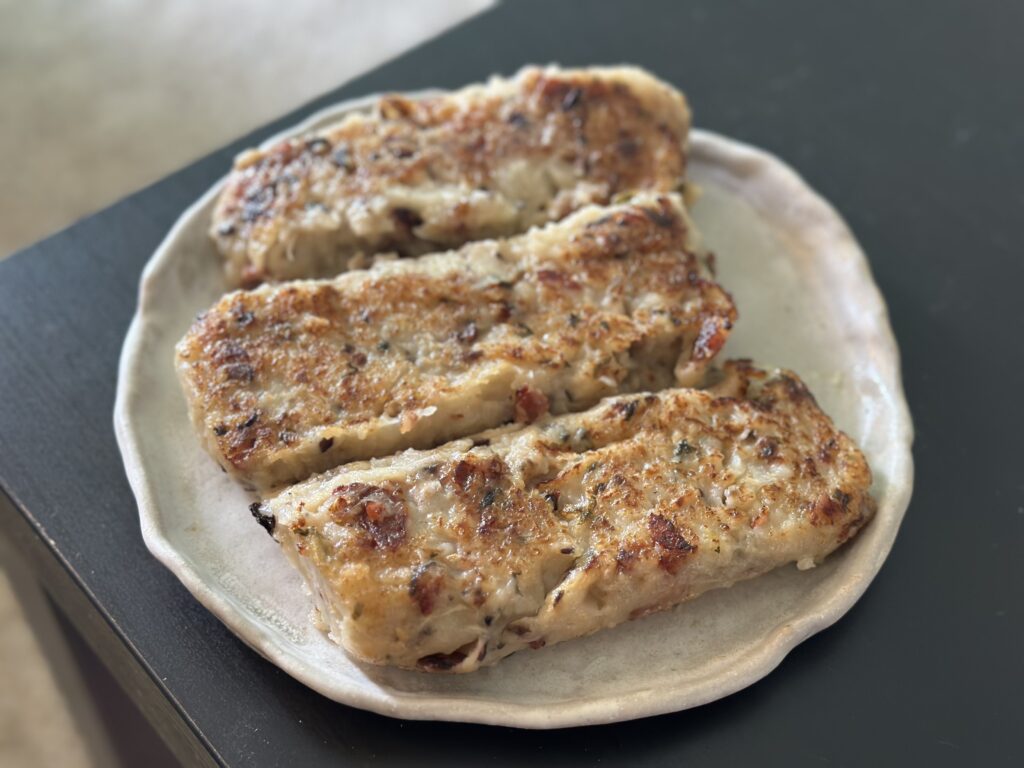 Like most dim sum dishes, radish cake, also known as lo bak gao in Cantonese, is a weekend affair that requires planning, careful preparation, and extensive cooking. But after eating radish cake in many dim sum restaurants and trying several different frozen brands, I can say confidently that there is no better radish cake than the homemade kind. And my recipe goes further to include MORE of the delicious parts that make radish cake a favorite–cured Chinese sausages, shiitake mushrooms, garlic, and lots of fresh Chinese radish. Radish cake from the restaurant and grocery stores have a higher ratio of rice flour over radish, making the texture and flavor subpar. Shredding radish by hand is the most effort intensive part of the recipe but the results are worth it.
Make sure to buy Chinese radishes. Their flavor profile is less spicier and more pungent compared to Korean, Japanese, or European radishes. If possible, choose radishes with a bright green leafy top and weigh more for their size since these will give you a higher water content and are likelier fresher.
Rice flour in this recipe refers to regular rice flour–not glutinous rice flour or sweet Mochiko rice flour. You can easily buy it at any East Asian supermarket for less than $2 a bag.
This recipe can be modified according to how much Chinese radish you have since they come in all shapes and sizes. Here are the radish/rice flour/water ratios. Use simple algebra to calculate how much rice flour and water you need based on the radish you purchased. For example, I purchased a 18.4 oz radish.
32 oz of radish = 8oz rice flour = 355 ml water 
18.4oz radish = 4.6oz rice flour = 204ml water
Ingredients
3 fresh shiitake mushrooms or 1 dried shiitake (dried ones are much more flavorful than fresh ones)
6 pieces dried shrimp
About 20oz Chinese radish (see above for rice flour/water ratio conversions)
3 cloves of garlic
2 Chinese cured sausages (do not eat these raw!)
2 spring onion stems 
5 oz rice flour
222 ml water
1/4 tsp ground white pepper
1 tsp chicken bouillon powder
1/2 tsp sesame oil
1/2 tsp salt 
2 tbsp of neutral cooking oil
Equipment
Steaming set up
Ceramic, aluminum, or glass steaming dish about 9"x 7 inch rectangle or 6 inch round with a deep bottom (a glass Tupperware container works well for this)
Grater (cheese grater works great)
Large frying pan
Steps
If you're using dried shiitake mushrooms, soak it in water for at least 5 hours or overnight ahead of time. Once they rehydrate, wash them under cool water and squeeze out the excess water.
2. Rinse the dried shrimp and soak in water for 15 minutes while preparing the rest of the ingredients.
3. Peel the outside Chinese radish and rinse off any scraps or dirt. Then with a grater, grate the radish into medium sized grates. Be careful not to injure yourself. Once you've grated up to the end of the radish, use a knife to thinly slice the rest as to not get hurt. Retain any liquids that steep out from the radish.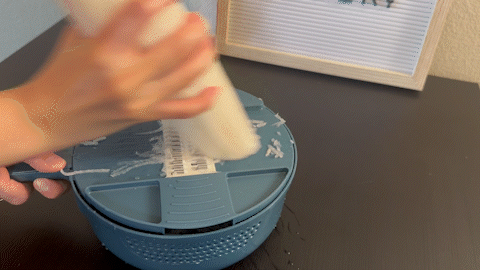 4. Mince garlic, Chinese sausage, dried shrimp, and mushrooms. Then thinly slice the spring onion.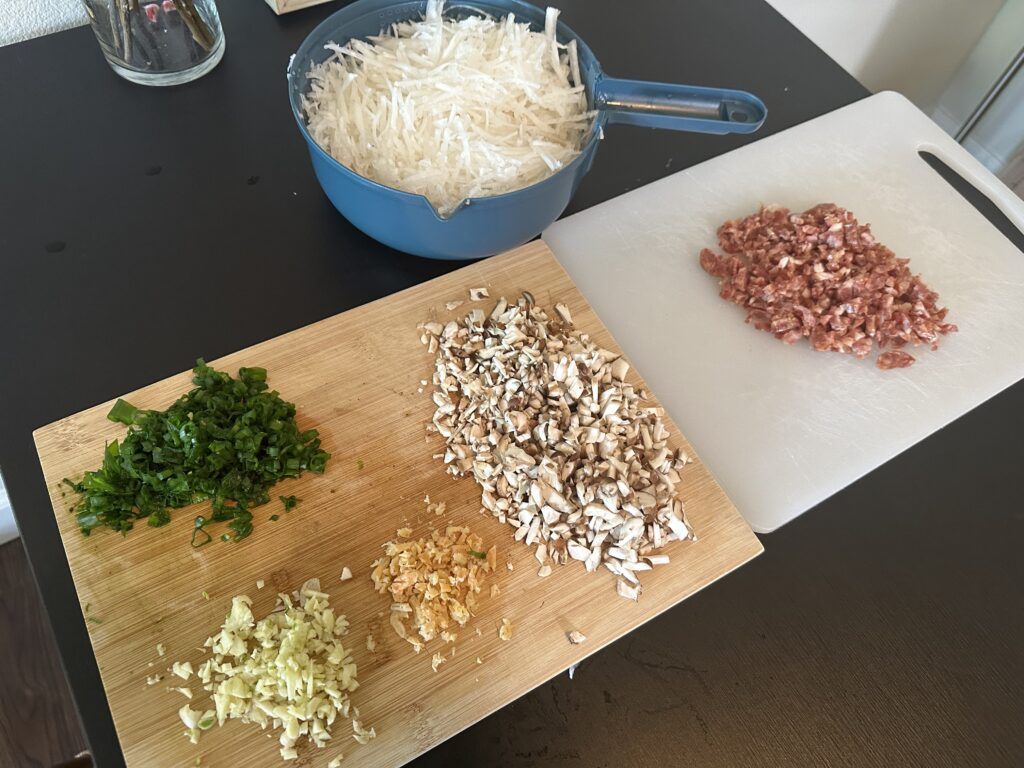 5. Mix the rice flour with water, sesame oil, white pepper, salt, and chicken bouillon powder.
6. Prepare the steaming dish by using 1/2 tbsp of neutral oil to coat the inside of the dish. Set aside. 
7. Heat a large frying pan with 1 tbsp neutral oil and add in the Chinese sausage. Render out the fat for 20 seconds and then add in the minced shrimp, garlic, and mushrooms. Be careful not to burn the sausage by stir frying constantly.
8. Add in the shredded radish and continue stir frying. Cover with the lid on medium heat for 6 minutes or until the juices the radish have begun boiling.
9. Turn off the heat and add the spring onions. Give the rice flour mix another stir to bring up any settled flour. Slowly while stirring the radish, pour in the rice flour water mix. It will take on a dough like consistency and mix until well incorporated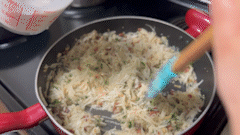 10. Pour the radish cake batter into the oiled steaming dish. Poor 1/2 tbsp oil over and smooth out the top with a rubber spatula.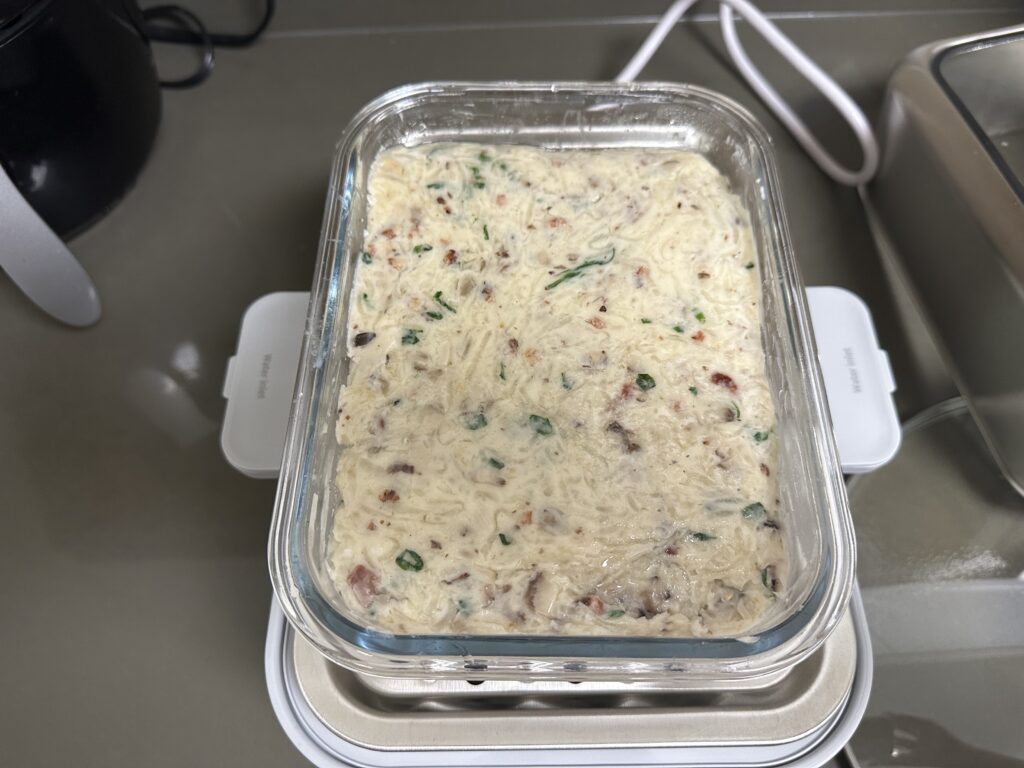 11. Steam for 40-50 minutes until a chopstick can come out clean from the center.
12. Remove the radish cake from the steaming dish mold by flipping it over a clean plate and patting the bottom of the dish. The radish cake should slide out easily. Let it cool before cutting into 1 inch thick slices. The slices can be refrigerated up to a week or frozen for a year.
13. Before serving, fry both sides with a small amount of oil until crispy and heated through. Serve with garlic chili sauce or soy sauce.