Serves 2-3 with basmati rice, naan, or roti on the side | Overnight marinating + 1 hour of cooking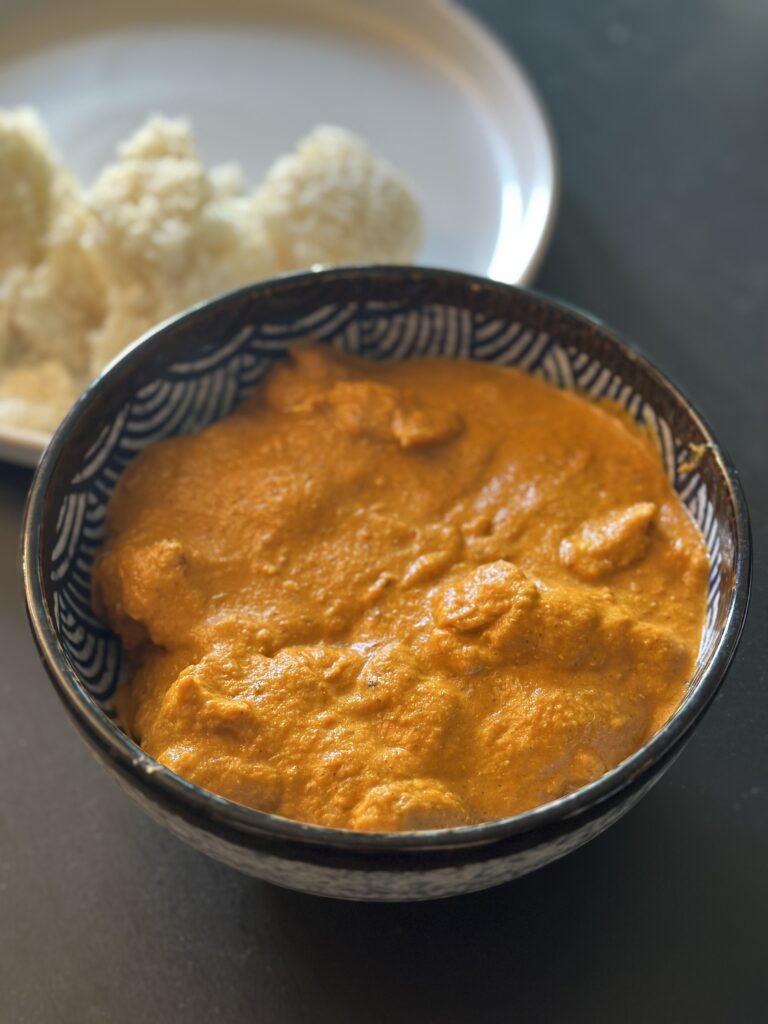 Whoever said mac and cheese is the ultimate comfort food has never tasted butter chicken before. It is aromatic, creamy, and full of tomato flavor that pairs perfectly dipped in a fluffy fresh naan or flakey roti. The steps aren't difficult but it is a recipe that requires patience, taking the time to make sure every single ingredient is cooked to its potential. The onions need to be cooked until soft and translucent and whole spices should be toasted but not burnt to bring out its best flavor. I use a blender in this recipe to achieve the smoothest, creamiest consistency. You can also use a food processor or immersion blender but they don't puree as well as a blender. All of the spices can be easily found in Indian grocery stores at very affordable prices. Unlike typical American grocery stores, you can buy a fresh 8oz bag of spices for less than $3.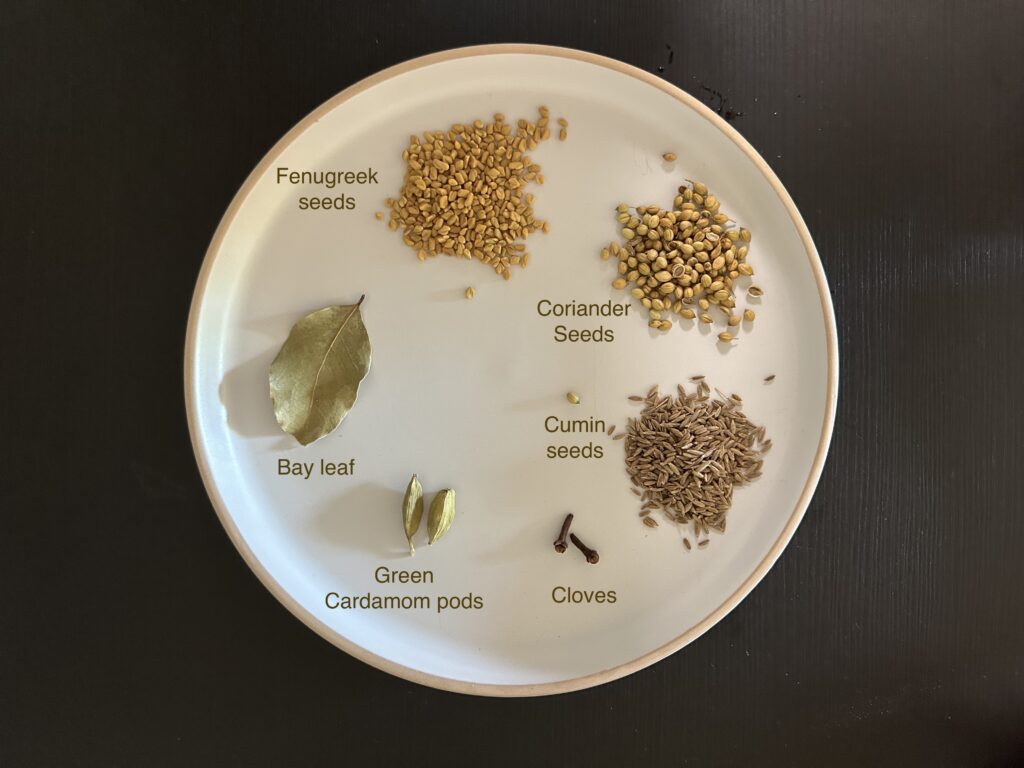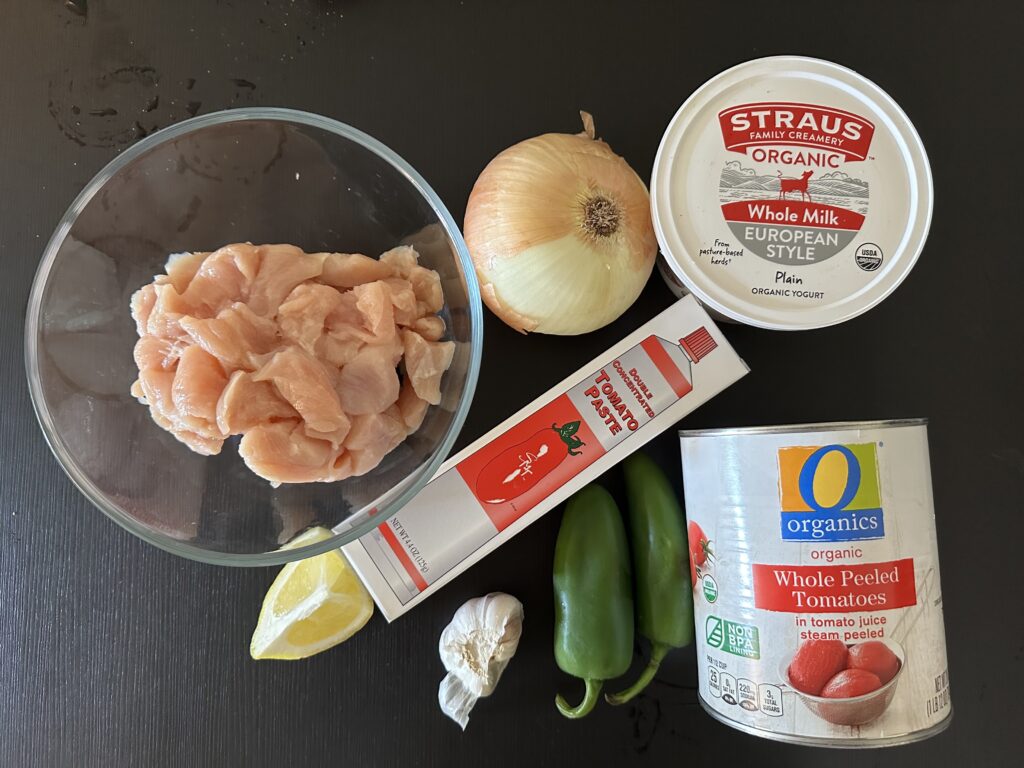 Ingredients
Protein and Marinade (Chicken can be replaced with tofu or paneer)
1 lb boneless chicken thighs or breast cut into 1×1 inch cubes
3 grated garlic cloves
1 tbsp grated garlic
1 cup plain full fat yogurt or Greek yogurt
1/2 tsp salt
1 tsp lemon juice, exclude if using Greek yogurt.
1 tsp turmeric powder
1.5 tsp garam masala powder
1 tsp cumin seeds
1 tsp chili powder
Tharka
1 large yellow onion, diced
1 tbsp neutral oil
1 tsp cumin seeds
1 tsp coriander seeds
2 whole green cardamom pods
1 bay leaf
2 cloves
1 tsp fenugreek seeds
3 tbsp ghee or unsalted butter
4 cloves of garlic minced
1 tbsp ginger grated
1.5 tsp garam masala powder
1/4 tsp turmeric powder
2 jalapeños or serranos depending on your spice level, chopped
1.5 tbsp tomato paste
14 oz can of peeled plum tomatoes and juice
1 cup of heavy cream
chopped cilantro for garnish
Steps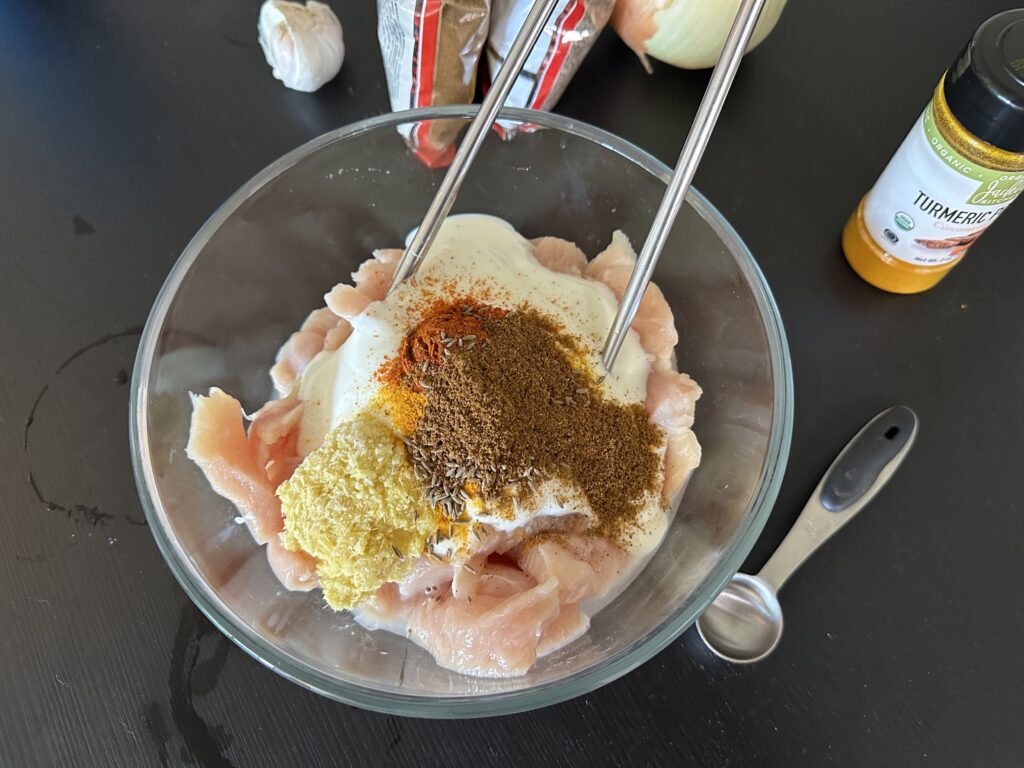 Marinate your protein of choice overnight or at least 3 hours with all of the ingredients listed under Protein and Marinade. When the protein is done marinading, air fry or bake all of the protein and marinade for 20 minutes at 350F. For paneer and tofu, bake until the color turns lightly brown.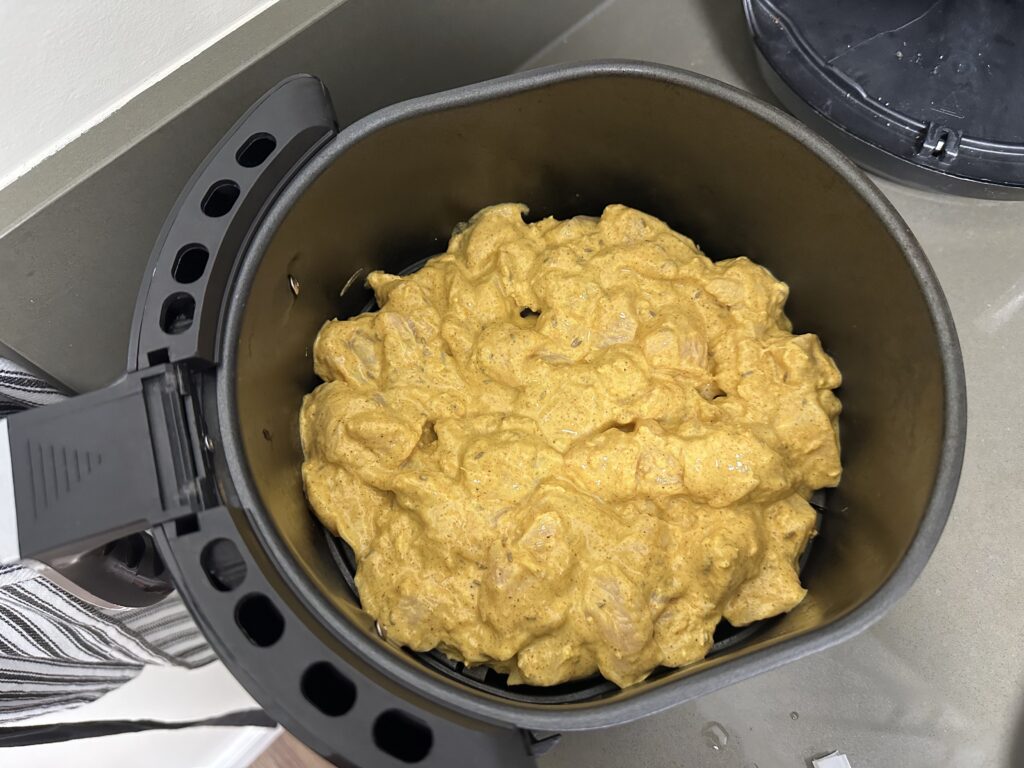 Meanwhile, dice 1 large onion. Prepare all of the ingredients under the Tharka section before beginning. This will prevent any spices from burning.
Heat Dutch oven pot with low heat and 1 tbsp neutral oil. Slowly raise the heat to medium and add the whole spices (cumin seeds, coriander seeds, green cardamom pods, bay leaf, cloves, and fenugreek seeds) once you see some smoke rise from the oil. Toast for 30-40 seconds stirring to prevent burning. Note: Never heat an empty dutch oven and when heating, slowly raise the temperature to prevent cracking.
Once the whole spices smell toasted, add 3 tbsp of butter or ghee and all of the diced onions. Reduce the heat to low and cook for 10-12 minutes until the onions are translucent and lightly golden, stirring occasionally.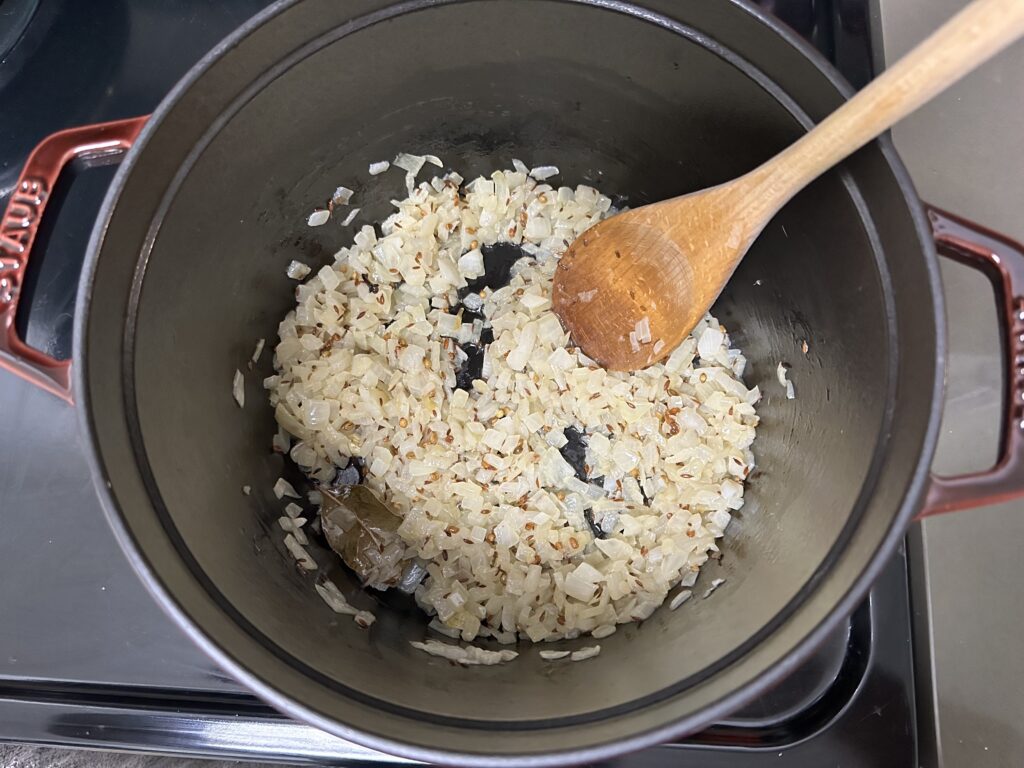 4. Once the onions are translucent, add 4 cloves of minced garlic and 1 tbsp of grated ginger. Cook for 1 minute before stirring in 1.5 tsp garam masala, 1/4 tsp turmeric powder, and chopped spicy peppers. Cook for another minute.
5. Add in 1.5 tbsp tomato paste and cook for 10 seconds to deepen the color before adding 14 oz of canned peeled plum tomatoes and its juices. Break down the tomatoes with a wooden spoon and once the liquids boil down, lower the heat to low. Do not cover with a lid. After stirring occasionally for about 10-15 minutes, the tomatoes should resemble a thick paste.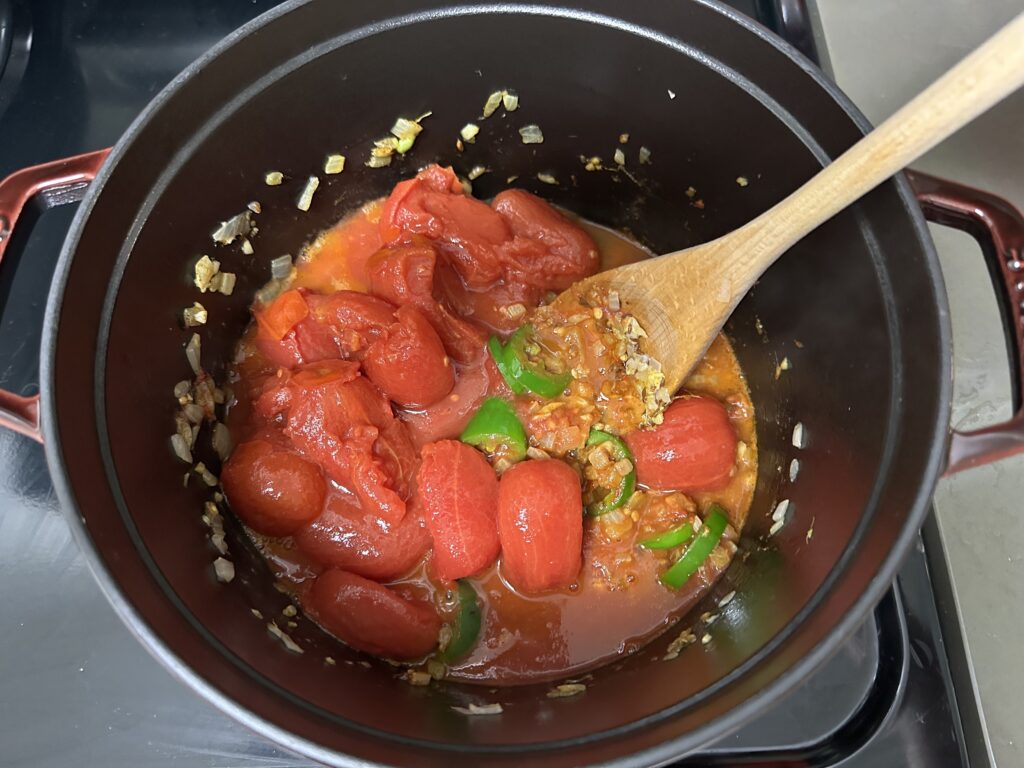 6. Remove the bay leaf, cardamom pods, and cloves. They might be tricky to find!
7. Then in a blender, add 1 cup of heavy cream and all of the tomato tharka. Blend until smooth. Pour the sauce back into the dutch oven and add in the protein. Heat the sauce again until the internal temperature of meat becomes 165 F internally. You can add more heavy cream if desired.
8. Add salt to taste and top with lots of chopped cilantro. Serve on top of basmati rice or paired with naan or roti. Enjoy!